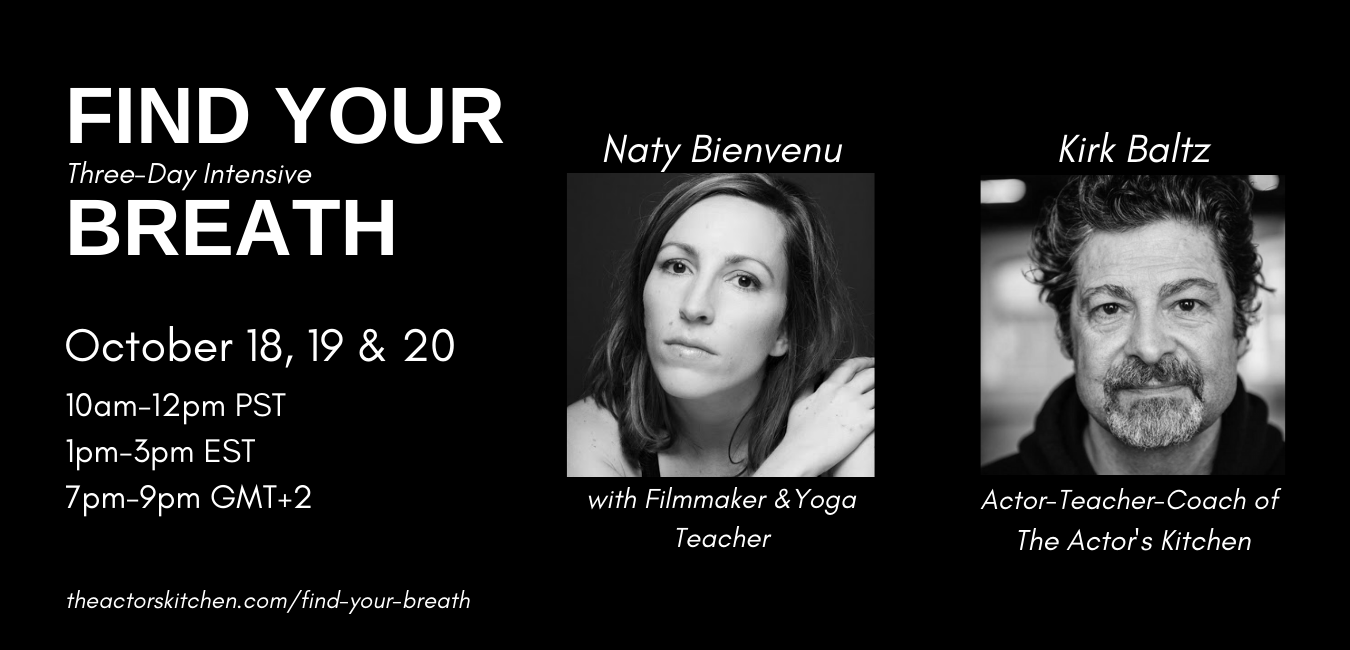 Work with Actor-Teacher-Coach Kirk Baltz and Filmmaker-Yoga Instructor Naty Bienvenu during this three-day intensive, online through Zoom. Character development and monologue study will move us into strong technique, the art of self-taping, work with breath and acting on camera.
*Each session will begin with twenty minutes of relaxation, breath, and yoga technique taught by Naty. From there, Kirk will work with each participant on their monologue.
*Work in English or your mother-tongue, it is your choice. You will select and come prepared with your own monologue. Please email a copy of the monologue prior to the start of the session to ensure a most productive weekend series.
*Sessions are focused on character development, text for auditions and creating strong audition technique that engage interest of Casting Directors and Representation with your self-tape auditions while working with breath and yoga.
*Limited to 14 Actors.
*Learn more about Naty at  www.natybienvenu.com
_____________________________________________________________________________________________
Set-up a Zoom account and practice navigating the site, along with the use of your mute button, to ensure a productive session for all.
Prepare your surroundings with a non-distracting background, make sure there is no window behind you, and be well lit.
Recording of video and/or audio is not permitted for any form of public viewing.
Upon payment and registration, each participant will receive an email 24 hours before the start of each session with the specific Zoom link and password. Please do not share links and passwords to ensure our creating a private space.
Three-Day Intensive…October 18, 19 & 20
at 10am PST, 1pm EST, 7pm GMT+2
Email your selected monologue upon registration.
All communication will be made with the email used to register on PayPal or Venmo (Kirk-Baltz-1). When registering with Venmo (Kirk-Baltz-1), enter the amount, email preferred for communication, and note the course you're registering for.
Prices are in U.S. dollars.