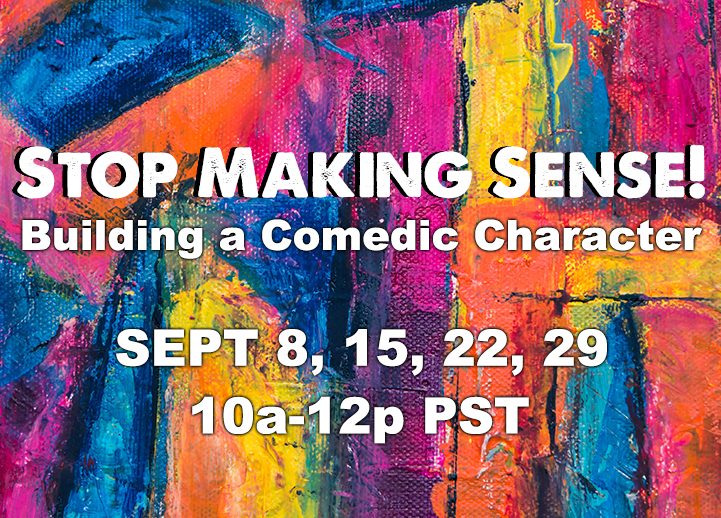 FOCUS
Write a story from your life. A tale of something that was embarrassing at the time, but you're now able to see the humor in. If it's hard for you to tell, you're doing it right. Take a risk.
Bring this story to our first session ready and willing to share, even if you feel afraid. We will then add non-sensible elements to raise the stakes while leaning into exercises that will build your commitment to the absurd.
Your story will become a fictionalized autobiographical tale from which a surprisingly liberating character will arise. You may find you want to take them everywhere with you!
Join us for 4 weeks of unbridled playful insanity.
What you'll take away:
Trusting your commitment to choices that make no rational sense
Discovering and residing in a different belief system from your own
A reconnection to your spunky kid who really doesn't care how they sound or what they look like as long as their need is being met
METHODS
Movement, Relaxation, Sensory Exercises, Dream Work, Improv, Character Development, Monologue and Scene Study
DETAILS
Every Wednesday for 4 weeks: Sept 8, 15, 22, 29
Each 2 hr session starts at 10am pst/ 1pm est/ 7pm gmt+2
This class is open to students worldwide. 12 person class (max)
To SIGN UP click an icon below
Enter the course amount ($250), your email, and the course name (Stop Making Sense!)
COME PREPARED
Set-up a Zoom account; practice navigating the site and use of your mute button

Make sure you are well-lit, have a non-distracting background, and there is no window behind you

Recording of video and/or audio is only permitted for personal use

Upon payment and registration, you will receive an email 24 hours before the start of each session with a Zoom link and password (Please do not share links and passwords)